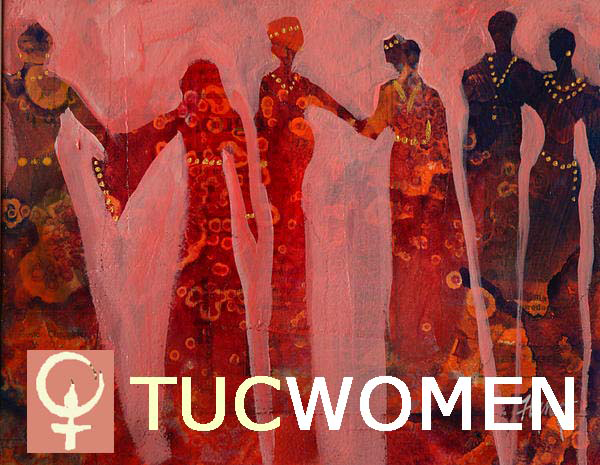 What is TUCWomen? Ministry by women for women.
We sponsor, organize and produce activities, gatherings, worship, and education relevant to the women of UU Westport.
We facilitate mutual support among women.
We rally women's participation in support of TUCW.
---
Annual Report – June 2019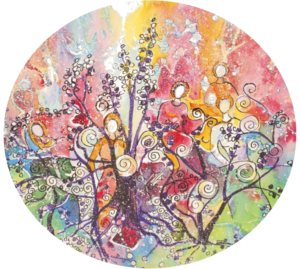 Our goals are to provide a rich set of opportunities to support women's engagement in the TUCW community and for women to build deeper relationships, and to nurture feminine spirituality.
This year we have continued the monthly potlucks throughout the year. These are all well attended with a varied group of women attending each time so that the network of women knowing others and being known grows with each gathering. This church year we launched the monthly "Quotable Women" brown-bag-lunch following a Sunday 11:00 AM service. Pat Francek coordinated this offering, identifying a different woman to lead each of the sessions. The leader brought a reading, quotation or art work from a woman and used this to stimulate a conversation. Also launched this year was the new "Women, Spirit and Imagination" six week women's spirituality series. This was developed by a group of women most of whom also led one of the sessions in the series. It was exceptionally well received and plans for repeating and extending it in the fall are underway. We also ran the Holiday Boutique selling jewelry and scarves. It was lots of work and fun and raised $7,000 for the operating fund.
All women are invited to all TUCWomen activities. We encourage all women to join the TUCWomen mailing list so they will know about what's happening.
Questions and ideas can always be directed to the co-leaders.
Respectfully submitted,
Sharon Poole Bittenbender and Sudha Sankar, co-leaders –
ghpjbzra@hhjrfgcbeg.bet
---
Join us
All women are invited to all events and activities. Enjoy fun evenings, make new friends, get to know old friends better.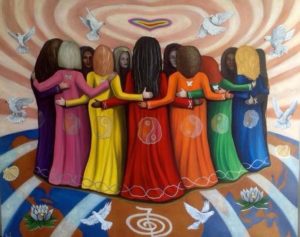 We have Friday night potlucks and Sunday brown bag lunches. We explore women's spirituality with workshops led by our own talented sisters. We raise money for the Church by holding our annual Holiday Boutique with fabulous jewelry and scarves donated and prepared for sale by us. At times we rally support, visits or meals, for women going through a challenging time. Check out the planned events HERE.
Of course, right now, we are gathering online using Zoom. Do check out the planned events. Even with 'Stay Home, Stay Safe' there are ample opportunities to gather, to share and to contribute.
Get to know us. Sign up for the TUCWomen email so that you always know what's coming up. Sign up HERE.
And, there are lots of ways to become even more involved.
Host a Potluck
Be a discussion leader at a Brown Bag Lunch
Lead a workshop as a part of the ongoing women's spirituality series, "Women, Spirit and Imagination"
Be a coordinator and organizer of our busy calendar
Help with communications
Help with preparing for the Holiday Boutique by preparing donations for the sale
Help on the weekends of the Holiday Boutique with set-up and selling
Let us know what interests you.
News & Events

All women are invited
During our time of being separated from each other physically we are planning events that allow us to gather virtually. Join us!
Everyone is welcome! Events like these have brought our women's community closer. We look forward to 'seeing' you there! You don't need to RSVP. Just 'show up'!
If you're looking for a way to deal with our current state of isolation – TUCWomen is offering many interesting opportunities to connect online using ZOOM. To join the group, at the specified time, join the meeting in one of these ways:
Tapping Circles
To help relax at home during self-isolation, Carol Hamilton will teach us how to use a simple meridian tapping technique, EFT (Emotional Freedom Technique), to help address stressful thoughts and feelings related to the pandemic. For those of you who may be finding difficulty falling asleep or staying asleep, she'll show us an easy and powerful finger-tapping technique which is helpful to use before bedtime. Carol is a certified EFT provider who was trained to use EFT to resolve trauma. She was a volunteer for the Newtown Trauma Relief Resiliency project in Newtown CT after the Sandy Hook tragedy.
Food for Thought
Next Thursday we'll begin our monthly Food for Thought meetings in lieu of our potlucks and Brown-bag-lunches. Each meeting will be led by a different member, who will kick-start the conversation with quotes from noteworthy women whose contributions have shaped our destiny. We will make new connections and deepen existing ones informally. Eileen Belmont will lead the first one.
Sacred Circles with Grandmother Nancy
Back by popular demand, this time online –Sacred Circles with Grandmother Nancy will continue her talking circles, which will include drumming, rituals, story-telling and thought-provoking conversations. See more information about Grandmother Nancy and Sacred Circles below.
UUtheVote
Janet Luongo is sponsoring UUtheVote, inviting all genders to attend. We may burn to do something for the common good but, in a pandemic, is it possible? Yes, there are many actions we can take from the safety of our homes to promote democracy. Learn how we can make a difference.
Janet is a life-long social justice activist whose memoir about her coming of age during the tumultuous 1960's will be published in 2021.
————————————————————————-
These events will be back on the calendar as soon as we can safely gather together.

Potlucks are monthly, usually on Friday evening. They are announced in Soundings, the Order of Service on Sundays and in the regular TUCWomen email. Join in the good times with old friends and new. Get to know women of the congregation by sharing a meal and good conversation. Bring something to share or if there's no time to shop or cook – just come. There is always plenty.
Brown Bag Lunches are a time to gather together… connect with each other… make new connections… and deepen existing ones… informally… in conversation. Bring your Brown Bag (filled with your favorite food and drink) and join us at the Meeting House at 12:30 Sunday following the 11:00 service. They are typically the second Sunday of the month. Watch for announcements in Soundings and the Order of Service.
Join us to discover how we as UUs can engage in political activism in ways that suit our skills and passions. This introductory session, in line with guidelines from the UUA, will suggest ways for us to be involved, and further the path towards justice and equity. For more information, go to UUtheVote.org.
Write letters to encourage people to vote.
Women, Spirit and Imagination, the outstanding women's spirituality series continued this year after a successful beginning last Spring. Each session is independent of the others so all women are invited to register for a few or all. The purpose of this series is to offer women a welcoming, safe place to explore their spirituality and imaginations. Most sessions will provide an experience of meditation, inspiration, imagination and connection, where women may absorb the healing power of beauty and a supportive community, and develop a feeling of calm and peace within, an inner haven to return to at any time. No prior experience is needed. Watch the schedule for new offerings in the new year.
We are fortunate to have Grandmother Nancy Andry who guides our Sacred Circles. She is an elder and storyteller of the Algonquin nation. As a lifelong participant of the native red road of spirituality she has studied with many medicine teachers of the Lakota and Ojibwa people.
Women of all ages are invited to participate in the formation of a circle of support and trust. Through stories and rituals, Grandmother Nancy will guide us in exploring what she calls "the ancient ways of knowing". Such knowing invites us to deepen our connection to nature and to our own inner wisdom.
In Sacred Circle, Grandmother Nancy will use the talking stick, which encourages respectful listening so that all who wish to share may be heard. There will be drumming which reminds us of the heartbeat of Mother Earth and of our own voices previously silenced. Grandmother Nancy teaches a number of rituals, such as the Water Ritual, that help us connect not only to the natural world but also to the world of the unseen. She brings a source that UUs draw upon: "Spiritual teaching of earth-centered traditions that celebrate the sacred circle of life and instruct us to live in harmony with the rhythms of nature."
"Meeting Grandma Nancy and hearing her stories was wonderful. She's truly an inspiring and insightful woman." — Jamie Coppola
"Listening to women opening up, sharing authentically from their hearts and feeling, inspired me to share my own experiences. It was truly healing to my heart and soul." — Golden Hawk
"I enjoyed the ritual aspect of Grandmother Nancy's workshops. The drumming is a wonderful way to start her workshops. It has a grounding effect. Grandmother Nancy is sincere in her efforts to create a scared space." — Beverly Bailey
"I felt a sense of peace and the beginning of a great companionship amongst the women of the circle." — Sarah Kent
"What I most appreciated about the talking circles is how it gave us, the participants, an opportunity to share in a meaningful way and showed what a wonderful community of caring, interesting, and insightful people we are a part of!" — Elizabeth MacDonald
"I enjoyed participating in several sessions of Grandma Nancy's workshop. One session began with us gathering in a circle and drumming to the rhythm of our heart beats. Then we closed our eyes as Grandma Nancy calmly had us imagine ourselves on a journey into a snowy wood where we came upon a wolf. Both exercises, as well as singing a Native American song taught to us by Grandma Nancy, opened us up to honestly answer the questions she posed as she passed around the talking stick. It was a welcome respite from the stress of daily life." — Sari Bodi