Our John Street Bridge Outreach project is committed to enabling the homeless in Bridgeport to help themselves.
As of the time of the COVID pandemic, our primary focus has been providing free lunches for the shelter at John Street Bridge. As of February 1, 2020, we have given out over 11,000 lunches.
Our work continues. Sign-up and  instructions are as follows:
Instructions for Brown Bag Lunches: As Easy as 1... 2...3...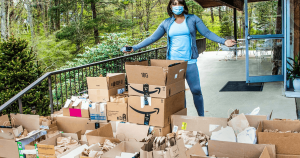 1. Click HERE to sign up for lunches:
2. Prepare a bagged lunch that includes:
Peanut butter & jelly sandwich always appreciated. Sandwiches requiring refrigeration (cold cuts/cheese) must be labelled on the outside of the bag.
Fruit – apple/citrus/bananas/grapes- whatever
Juice/water
Cookies/snacks
Anything else that you would like. For example, folks have included Hershey Kisses, Pepper Ridge Farm Goldfish, hummus & carrot sticks. Be creative!
A note inside or on the bag is nice. Some people decorate the bag. If you include your name then first name only.
Napkin or individual Wash & Dry (if possible).
Label outside bag with type of sandwich.
3. Drop the lunches off at The Unitarian Church in Westport
Every Saturday between 12-4.
Pick up bags if needed for next time